Who Am I ?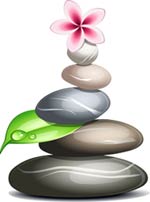 I am a seasoned massage professional who has been working in this industry for the past 15 years in various capacities.  Each massage session performed is unique to the individual I work with. Some folks want to relax and go with-in , while others come in seeking relieve from chronic pain and stress . My massage training includes shiatsu massage, myofascial release, table Thai massage to name a few.   I am also a proud member of Rooted River Therapies. Where each client is respected and valued the moment they walk through the door .
Thank-you for taking the time to visit my website ! Make an appointment today !  Marianne Lang Melino
We live in a busy and stressful world today our responsibilities are endless and it seems there is not enough time in the day to complete everything that needs to be done.  If you feel like this, now is the time to incorporate massage into your life style.  Massage is essential to good health and is beneficial to the mind and body.  Body tension manifests itself in many different ways which may include tight muscles, headaches and fatigue. When our muscles are tight this may result in poor posture, decreased range of motion and lack of local blood flow.  Each therapeutic/integrative massage session I perform may include stretching, shiatsu, myofascial techniques and energy work to assist with bringing your bod/mind back into balance.  Massage encourages a person to experience life as it actually is IN THE MOMENT.

Mission Statement
My mission is to provide each individual client with a customized and quality massage and to enhance an individual's well being on a physical, mental and emotional level.  My number one goal is to provide relief from everyday stresses, educate individuals on the benefits of massage and provide excellent customer service.

What Can I Expect From My Massage?

Each session is a full 60 or 90 minutes of hands on massage/bodywork.  Before each session begins we will discuss your goals or desired out-comes.  There is minimal talking during the session.  I will check in to see how the pressure is and I encourage you to let me know if you want more work in a particular area or if you want the pressure adjusted..

Office Location

My office is located at 33 South Delaware Avenue, Suite 201,Yardley , PA 19067 inside the Rooted River Therapy office. A beautiful quiet space located along the Delaware River.
OFFICE Hours: Monday: 9 am to 2 pm, Thursday: 9 am to 8 pm, Friday : 9 am to 8 pm, Saturday: 9 am to 2 pm, Sunday : By Appointment (Same day appointments may be available. ) All calls are returned the same day. You may also contact me via the schedule an appt. form , please include desired date and time you would like to come in.     
Please take some time out for you, for if you don't, no one else is going to. Massage is a perfect way to rejuvenate your mind and body.
Did you know that massage therapy may be a qualified medical expense ?  Talk with your Doctor to see if you are eligible. 
Give us a call today (484-686-4108)  to schedule your next visit.
Namaste.